I have joined the
A to Z blogging challenge
. During the month of April I will write a post each day with the exception of Sundays and these posts will correspond with each letter of the Alphabet. You can join by following the link above.
**************************************************
As it comes closer and closer to May 1 when I will make my first trip back home in almost 7 years I can't help but to think about the past... think about all the memories I have either cherished or somehow forgotten.
I remember staying up late with my sister, Kari, when we were kids playing barbies. It would be so late and we would be so tired so we would tuck the barbies under our pillows and lay down to "rest our eyes". Somehow we always managed to fall asleep and wake up with barbie imprints on our faces.
I have a step-sister who is about 3 months older than us and the three of us had so much fun together. Sun bathing in the backyard in our under clothes or camping on the front porch... and then having it rain on us! In the last week or so I began to remember the memories we wrote on the wall inside our bedroom closet as teenagers... Yes.. ON THE WALL! I spoke with my step-sister, Debbie, last night and we talked about the wall. It contains all our declarations of love for boys we went to school with and who knows what else. She told me our parents know about it now and laugh about it... they probably would have skinned us for it back then! I told her I have to add my new and only love to that wall when I come up there. I can't wait!
Today's memories though center around Jeff's Grandma Duncan. She passed away and went home to her Lord two years ago today. Her passing was hard on me as she was a second granny to me. I loved her as my own since I had lost all my grandparents by 2005. I sat with her through most of her last days and I truly miss the woman. I cannot wait to reunite with her in heaven some day.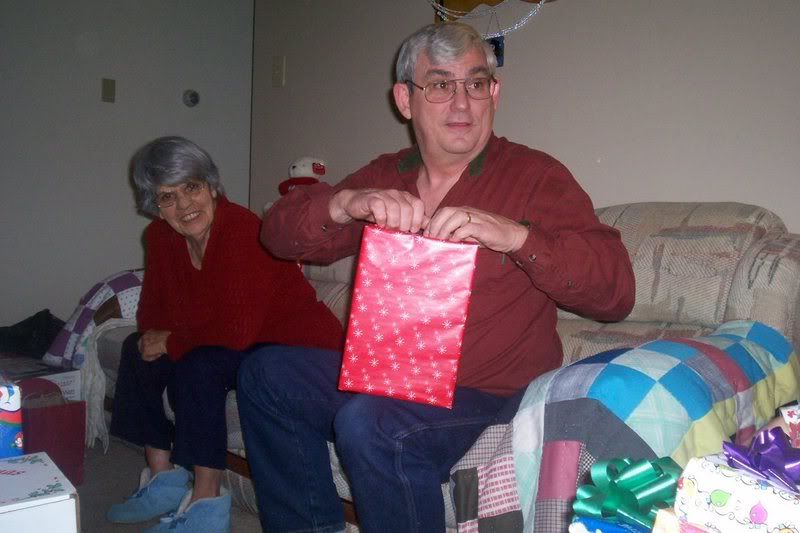 There she is on the left... this was Christmas 2007... one of the last we had with her because she spent her last Christmas at the nursing home... refusing to come and celebrate with us in 2008. I miss her smile, her laugh and her hugs.
****
My sister,
Kari
, decided to join the challenge, so be sure to take a look because she will be having a giveaway when she reaches 20 followers!