You all may be surprised that I have, in fact,
not
fallen off the face of the earth. Actually, I have been working on one of my goals for 2011...
knitting!
My Granny tried to teach me to knit when I was young... she was successful in teaching me the garter stitch and how to cast on and off. I was never able to expand in my abilities to knit... mostly because I didn't know about how helpful youtube is with these things... but also because
I cannot read written instructions on how to do a stitch
! I put my knitting needles away and only used them when I decided to knit a scarf with some novelty yarn.
I have gown in my crochet abilities thanks to youtube videos. Learning that I am a visual learner has helped me immensely. So this year I decided will be the year I learn to knit! I joined a Knit Along group on ravelry that does three different squares (easy medium and hard) each month. I am happy to say... knitting (so far) is not as hard as I thought it would be... I have completed all three squares for January and I am starting a fourth square of my choosing! The photos below are not the best as I took them with my cell phone out of sheer laziness. Enjoy!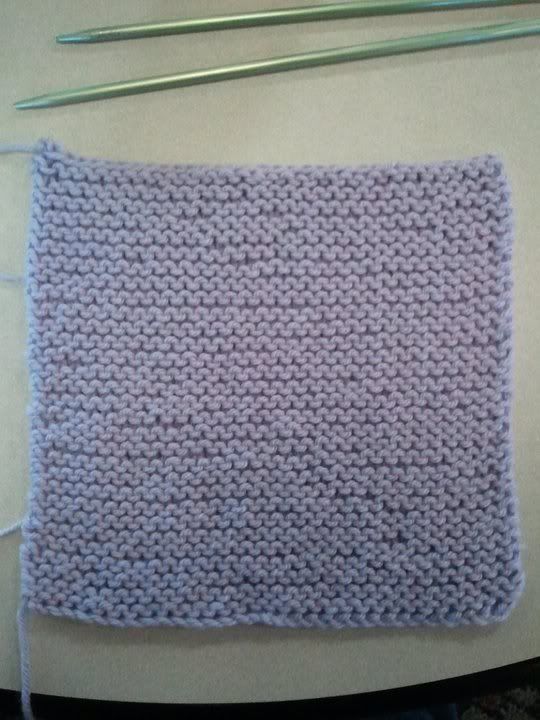 This is just a plain garter stitch square. This was, of course, the easy square.
This was called "Grandmothers Favorite" and it is also garter stitch with the exception of the yarn overs and knit 2's that you use to create the holes... it is worked from corner to corner... I really enjoyed this one... it was the medium square.
This is the hard square titled "Lizard Ridge" This one contained knit, purl, wrap and turns. I learned how to rip out work and correct mistakes after I realized I missed a knit row and ended up making one of my ridges backward!
Hope you are all having a wonderful January... I am ready for a vacation! I am working on a couple beanie hats with the giant flowers... Maybe this weekend I will list all of my 2011 goals for you! Have a great day!